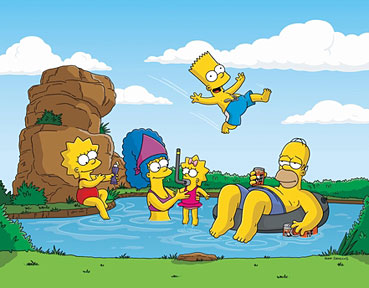 Berbekal kecintaan gwe sama nih serial tipi, judulnya The Simpsons, sebuah tipikal keluarga USA banget dengan aggota keluarganya :
Banyak yang ngritik acara TV ini, memang mnurut gwe the simpsons bukan acara untuk anak kecil, tapi memang acara ini untuk keluarga, dengan ayah yang ber-IQ menengah kebawah tapi sangat cinta dengan keluarganya (American way), lalu sang ibu (nothing wrong with the mother) yang juga sangat sayang dengan keluarga.
Anak pertama namanya Bart Simpsons yang kelakuannya bandel banget… yaa namanya juga anak-anak…
Anak kedua namanya Lisa Simpsons yang ber-IQ tinggi dan selalu menang dalam urusan pelajaran…
Anak ketiga namanya Maggie Simpsons yang masih bayi dan selalu ngendot mulu…
Untuk lebih jelasnya gwe buatin web khusus The Simpsons – Indonesia (soft launching). Sekali lagi gwe mengharapkan dukungan dalam bentuk apapun demi kemajuan web The Simpsons – Indonesia.